SHIPPING AND RETURN POLICIES
In addition to online ordering, many customers visit our stores or place orders over the phone for installation at our locations. If there are questions about what is best for your needs call us at 877-999-8277. We can usually help and we're happy to talk! You can pick up your order at our shop, let us install it for you, or have your order delivered to you. We ship via FedEx when possible and by LTL freight trucking companies for orders that can't go via FedEx. Orders for stocked products placed before 4:00 PM EST will generally ship the same day. Please call877-999-8277 to request special carriers, next-day service, tracking, freight collect, etc.
Privacy & Security
We collect email and telephone information for processing and delivery of orders; we don't sell or lease this information for use by others. Occasionally we send promotional emails. We try to make that worth your while and keep it to a minimum. If you'd rather not receive emails just call customer service or click the unsubscribe link.
Returns & Replacements
While it doesn't happen often, we gladly accomodate returns and exchanges of new, original conditon product within 30 days of shipping. Just call us at 877-999-8277. Customer is responsible for proper packaging of the returned product, and unless we made an error or the item is defective, customer is also responsible for return freight charges and a 10% re-stocking fee will apply. We are unable to accept returns of products that are customized or manufactured to customer specifications, or products that have been used or exposed to environmental conditions. Prepayment is required in situations where Tarpstop sends replacement product prior to receiving returned product. Once we receive your returned product in new condition we will refund the difference after applicable restocking and freight charges.
Pricing & Promotions
Prices are subject to change. We do our best to be competitive and accurate with pricing and promotions, but errors, oversights, and programming errors can create unexpected results. If incorrect pricing is an issue we'll call you for approval of corrected charges before entering your order.
Free Shipping
Customers placing online orders now can receive free shipping to locations within the contiguous 48 States. When shipped via our free shipping program, the most economical carrier is chosen by Tarpstop, LLC. We typically ship smaller orders via Fedex ground, UPS ground, or similar. Large, bulky, or heavy items will ship via standard truck freight at the option of Tarpstop. Orders may ship from multiple locations. Free shipping only available to online orders.
EXCLUDED PRODUCTS
The following products listed will be excluded from all free shipping:
Aluminum: Storage Boxes, Bulkheads, Cab Racks, Levelers
Stainless: Storage Boxes
* Other parts/products such as tarping systems, cargo control and more will be specified by product.
** Free shipping is only valid for addresses that do not require lift-gate service.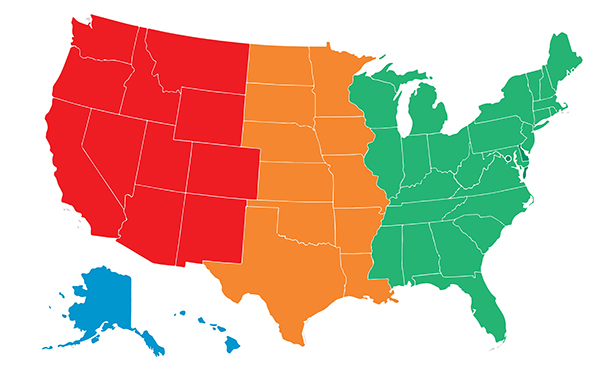 STATES
Shipping Policy
WI, IL, IN, MI, OH, KY, TN, MS, AL, GA, SC, NC, VA, WV, PA
NY, MA, NH, VT, MA, RI, CT, NJ, DE, MD
Free Shipping over $1250
ND, SD, NE, KS, OK, TX, LA, AK, MI, IO, MN
Free Shipping over $2500
WA, OR, CA, NV, ID, UT, AZ, MO, WY, CO, NM
Free Shipping over $3750
Expedited Shipping
Depending on size and weight of products in the shopping cart, expedited shipping options may be presented. Expedited shipping is optional, and if selected by the customer, is NOT free. Selecting an expedited freight option 'may' reduce transit time by 1-2 days, however delays may occur with carriers due to inclement weather, and we cannot guarantee all orders will arrive as expected.